I changed the colors of my blog so you could appreciate the colors the pictures here. I just posted 4 of Kalabaw's work, they are all pastel on felt. He has other drawings on different media but I like these 4 because of their colors and theme.
Why am I showing you his works?
(Some parts deleted upon the request of Kalabaw)
If this happens, I could probably sell his drawings at a good price. Hehehe.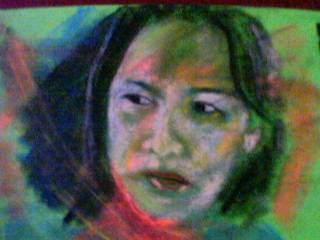 Fionski in pastel. This is his first drawing of me. I love this one kasi payat ang face ko dito. He did a more realistic drawing of me, mataba ang mukha at oily ang skin. He even had it framed and brought it here to my place, all the way from Paranaque. Sweet noh? Kaya love ko siya kahit lagi kaming nag aaway. Hehehe.
Posted by Hello